beddy x whippet ?

Mostly. The one in the foreground also has a bit of Lakeland. Both have a tiny bit of jack Russell from their mutual grand sire.
dpack


i knew a lakeland for 18 yrs ,he was rather robust ,so a bit in a lurcher seems better than a full one ,good at shedding rain though .

bobs


my old dog .. this young pup has a lot to live up to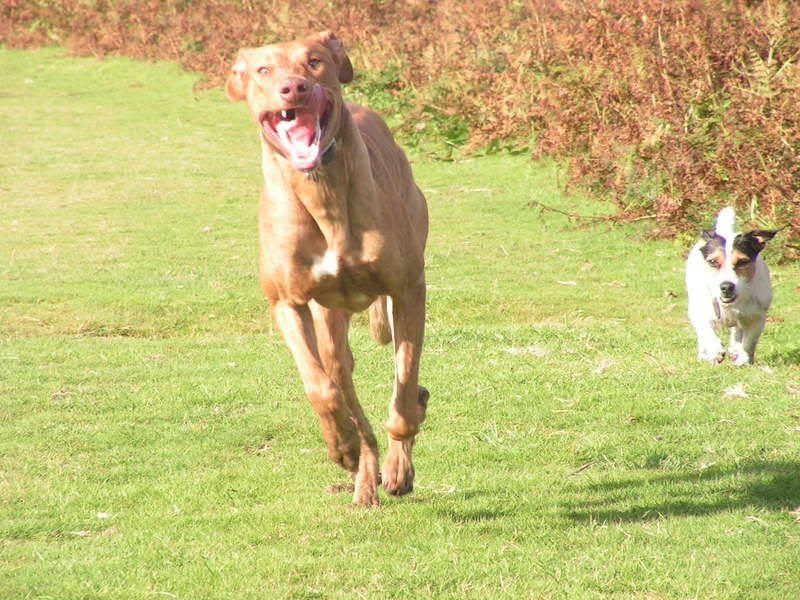 mousjoos


mine's not as active as the previous dog I had
Flamin'Panda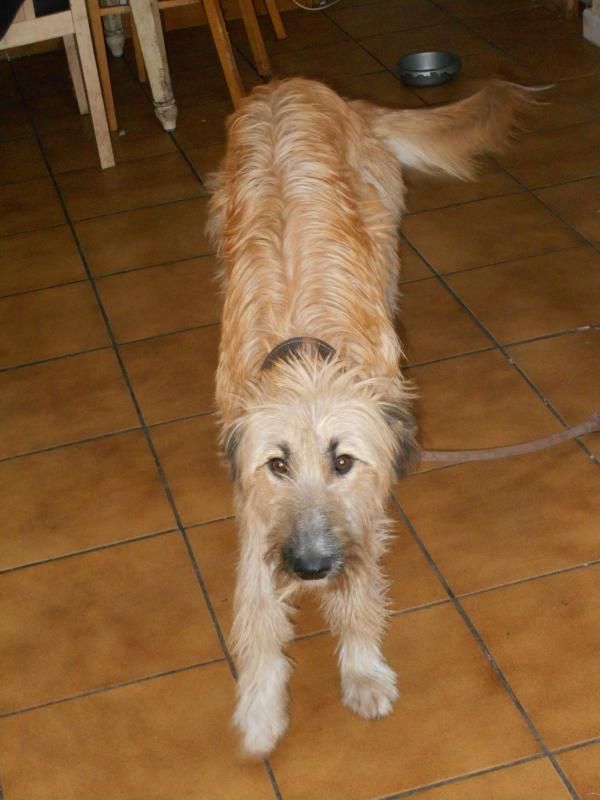 heres min a 10 month old saluki - deerhound x


that is one cute hound.
Mithril
i knew a lakeland for 18 yrs ,he was rather robust ,so a bit in a lurcher seems better than a full one ,good at shedding rain though .


She's a fraction under 10% Lakeland (3/32), but it's quite influential, attitude wise. I like it - my eldest daughter prefers a straight bedlinton x whippet mix (more beddie than whippet). But they all benefit from a keen Jack Russell pal to show them what is expected.
Cathryn
I'd love a lurcher/saluki cross but they chase things. I am surrounded by hens and sheep, it would be too much stress. We already have a spaniel who is encouraged to retrieve pheasant but has to ignore the guinea fowl and several sheep dogs who are only allowed to growl when the hens try to share their food. I cannot imagine a saluki managing to live outside with the other dogs either and it so nice not having animals in the house.
dpack
my saluki is fine with chooks and guineapigs and cats and garden birds/ducks etc but pheasant is a different matter.she can be controlled off lead near sheep (she even managed to send two back through the hedge to where they belonged but it was rather stressful)but she would be miserable living outside ,on sofa by the fire at the mo.salukis are definately to be pampered

tis a matter of teaching them what is not to be chased ,i havnt managed to convince her not to live catch (and turn them to my feet) small fluffy dogs though :lol:so i spot them first and tie her on.
bobs
he had hes first bunny the other day.... good news





Chez
The baby, or the lurcher?
dpack
as some of you know i have a saluki grey newboy to go with ki.as his recall is quite good ,with ki helping even though she had no idea of recall if she was having "fun" and he has a superb hunt instint judging by the way they play(and pigeons etc
) i think in the right place and circumstances i might have a stunning team.

how does one get them to go for bunnies and refuse hares ?

these two could drop a rhinologist(sorry spell check can be well funny~) so avoiding deer bycatch might be an issue as well
bobs
as some of you know i have a saluki grey newboy to go with ki.as his recall is quite good ,with ki helping even though she had no idea of recall if she was having "fun" and he has a superb hunt instint judging by the way they play(and pigeons etc
) i think in the right place and circumstances i might have a stunning team.

how does one get them to go for bunnies and refuse hares ?

these two could drop a rhinologist(sorry spell check can be well funny~) so avoiding deer bycatch might be an issue as well


well hares are allowed to be retrieved after they've been shot
deer are allowed to be tracked

can you train a lurcher to run a rabbit and and not a hare
well maybe with some sort of super IQ collie x lol

as all lurchers should be stock borken you do train a dog to run 1 thing but not another

but a sal x and a hare
dpack
i dont want to hunt hares by shooting or hound too many get killed by cars and waste not etc,unless a deer was on a motorbike it would probably be caught rather than tracked,even on a bike these two would probably get to it.

ki is fairly good with stock and although we have herded once i dont think she is cut out to be a sheepdog/cowherd like my half wolf was
im not sure about chomps yet as ive only shown him horses(which he is wary of)he is getting quite good with the guinea pigs which shows he can understand what is not prey,getting him to be unafraid of (and not react grumpily to)other dogs is top of the list at the mo.

i spose making sure there is no bycatch available might be best same as i do with innocent canine bystanders when i run them
ki has brought me a few by running and turning them til they drop at my feet a few times


thoroughbred working salukis are rather special and saluki x grey are steadier but even more keen judging by these two
Home
Home
Home
Home
Home