Thanks - the water by you is a lot warmer than on the S.Wales coast!

I'm just across the channel from you, so temps probably similar to yours. I was just using the numbers from the link to confirm the sea is colder than last year. IIRC there was something on the news a month or two ago that said the sea was particularly cold this winter compared to previous ones.
gardening-girl


Have just returned from Seatown in Dorset,and we could see the mackerel about 5/6 ft away from the shore.Its very deep,with a steep shelving beach.
Lots of small boats out catching well.
After about an hour, they moved on up the coast towards West Bay.
dpack


oooh recon a couple of weeks to get north then as they are late

Northern Boy


Gonna have a go on Monday, tho the water still looks far too cold!

Northern Boy

Summer is here!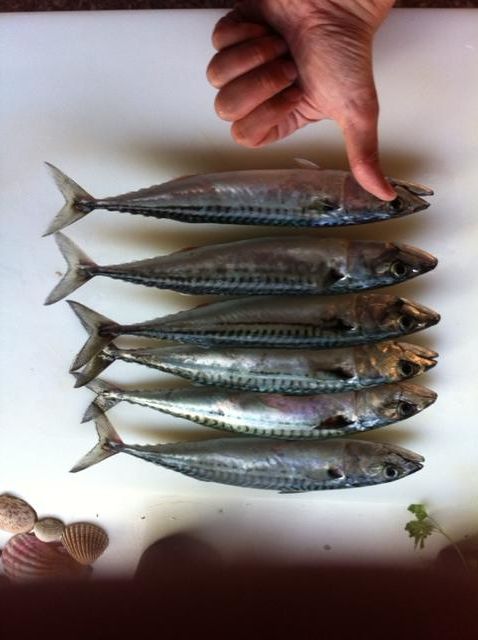 (Caught from a kayak off the Gower coast yesterday, by Mrs Northern Boy)
gardening-girl
Lots at West Bexington this morning.
dpack
gower is warmer than northumberland so i will plan for eating bait


as it is still quite chilly in the north sea i recon shellfish and rocklobster are a fair possibility. i will report back if there are any fish.
SandraR
OH and daughter caught 28 mackerel off Torcross tonight. Just about everyone on the beach had a good night.
pricey
They are here finally!
celestialspore
They have finally arrived, in dribs and drabs, off Stonehaven.
Northern Boy
It's still very slow here, there are some about, but not many. Am starting to think that it will just be a quiet year..............
celestialspore
Roughly where abouts are you, Northern Boy? I think I spoke too soon. I've been out most days this week, and have had a grand total of 4 mackerel. I think you might be right, quiet year.
Northern Boy
SW Wales

The other thing I've noticed is that, of the few mackerel we've had this year, about a third of them have been heaving with parasitic worms. I don't know whether this has anything to do with their scarcity, but I have never noticed it in mackerel before.
Treacodactyl
Are there many still about? I've managed to catch a good few this year from the beach and I'm wondering when they move off-shore.
Jonnyboy
Caught some from a kayak two weeks ago, only about 40m off shore. I might try again this weekend if the weather is favourable.
Home
Home
Home
Home
Home