Seconded. I'm actually a bit jealous - partly at the success of your fishing trip, but mainly at your ability to fish from a kayak without falling in every 33 milliseconds, which would undoubtedly be the case if I were to give it a go!


You're thinking of those sleek, slim things. I fall in from those if I breathe heavily. The kayaks we use are very stable if you want them to be.
Shane
Indeed I am - tried one out the other day and couldn't stay the right way up for the life of me. I guess the fact that it said "Stealth" down the side should have given me a clue that I'd need the skills of a Navy Seal to operate the damn thing
Moniar
Still havnt got my pics sorted out but this you tube video taken on the day will wet your appetite and give you an idea of what is was like


http://www.youtube.com/watch?v=ARXMmI9aY0I&feature=g-upl

Lovely venue for kayak fishing and hope to be back there this coming week if the weather plays ball.
Moniar
Finally got the pictures of the trip to Stack Pole on Tuesday uploaded so here is the report:

A last minute decision to join Gareth and Mike down at Stack Pole Pembs for my first trip down there, with the aim of sussing the place out and giving the tope a try. Having previously tried for tope at Tywyn and only having one dropped tope run I was keen to get my first tope.

I met the guys at the National Trust car park (for an outrageous £5 parking ticket!) and after a brief chat whilst getting geared up we trollied the kayaks down the road and down the beach at the small harbour: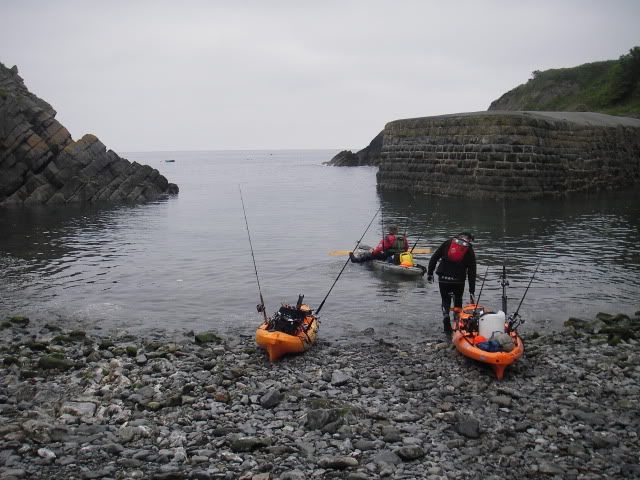 We paddled around the corner and started trolling feathers and shrimp rigs in the already deep water, looking for fresh mackeral for bait. I had some frozen mackeral and other bait with me but there is nothing better than fresh mackeral for tope.

We paddled further into the bay and found a shoal of joey mackeral - I had a full house of five on a shrimp rig and then followed with a few more.




We then paddled out to deeper water near a sand bank and all deployed anchors over the side at the same time, which put the three of us nicely close together but with sufficient space in between to allow for a roaming tope. We quickly got the whole mackeral on strong traces down in front of us into the trough which was south of the sandbank:




Within 10 minutes Gareth's reel was screaming and his first tope was hooked and fighting like mad. Mike left his anchor point and paddled over to take some video and photos whilst Gareth fought to bring the tope up to the surface: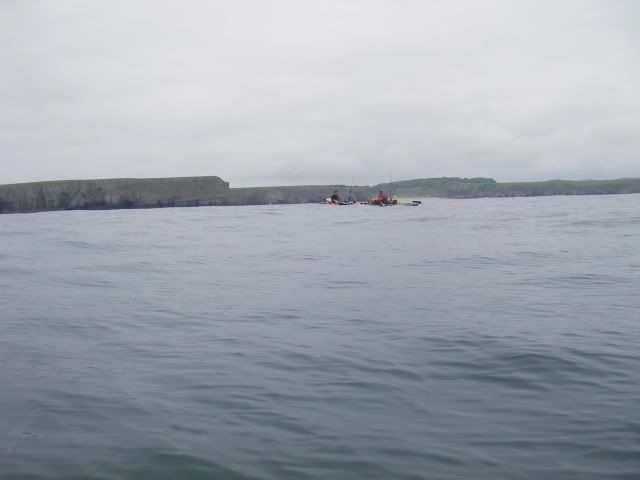 Mike went back on the anchor and within 5 minutes of his bait hitting the bottom he was also into a tope, his first one off the kayak. After a good long fight it came up and Mike brought it on board for a trophy shot before letting it go.

Moments later I made it three tope when my reel started peeling out line at a rate of knots with the ratchet first clicking then screaming away as the tope took my whole mackeral and went for its first run. I waited until it stopped and started its second run, having listened to Gareth's earlier advice, and pulled into the fish and adjusted the reel drag to give the tope some resistance. I could not believe how powerful a fight it gave, with deep and long plunges down tide and long runs up and down. My 30lb class baot rod was bent well over and the tope kept taking line all the way up to the surface, whilst Gareth unhooked from his anchor and kindly paddled over to give me a hand.

The smile on my face said it all - a mixture of delight in getting my first ever tope, and biggest fish ever, and worry about how I was going to handle it!

Here is the tope coming up out of the depths, plus the pics that Gareth took (thanks Gareth):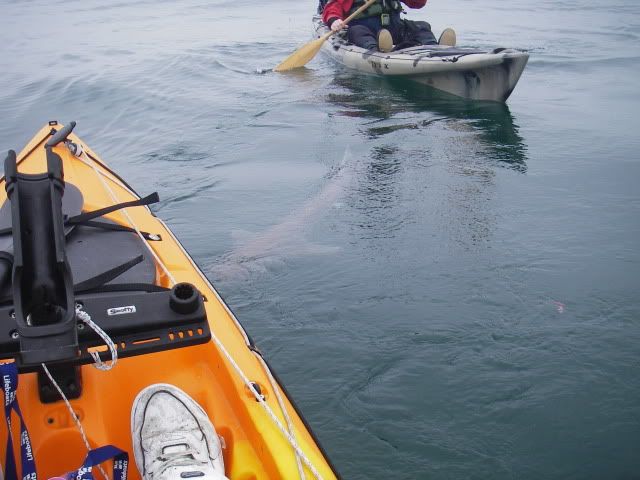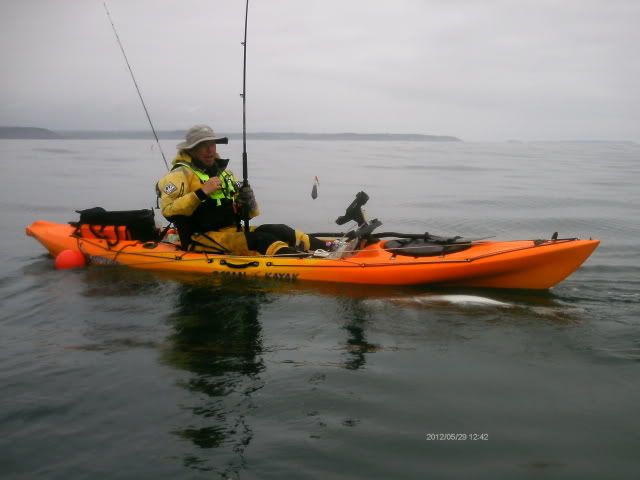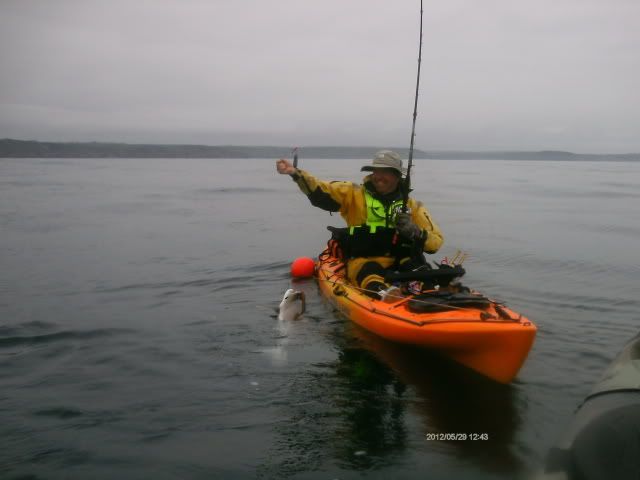 Gareth came in close and t barred the tope off the hook as I didnt fancy getting up and personal with the tope on the kayak, and was happy with the close shots of it in the water rather than risking a dunking in the water! It was a female tope of between 20lbs and 25lbs.

I rested back in the seat and selected another whole mackeral to go back down, and after a cup of tea put the tope rig back down to the bottom. Within ten minutes I had another tope run, but it dropped the bait after the first run. Meanwhile Gareth and Mike were still bringing them in a few tens of yards away.

I hooked up with a second one, and after a good ten minute scrap it also came alongside, a smaller male tope of around 18lbs - 20lbs. This time I decided to tackle it myself and managed to unhook it at the side of the kayak after a couple of pics: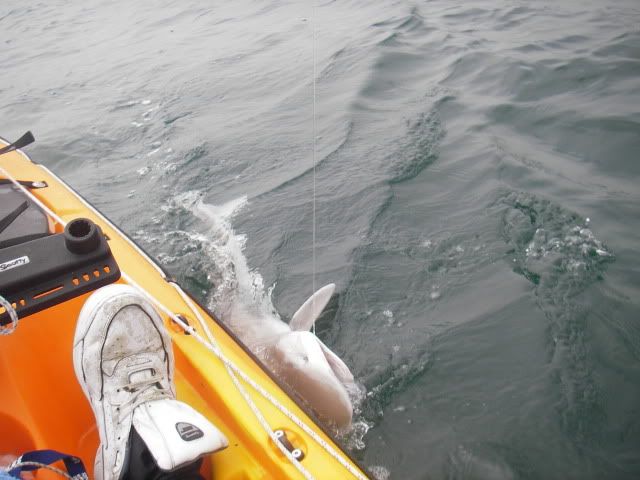 I then had a huge tope run after putting a new mackeral down - it felt bigger and more powerful than the first two, and took most of the line off my multiplyer reel on its first few runs - I battled for 15 mins or so with this one and then it bit through the mono trace.

I put on a new trace and a new mackeral and sent it back down to the bottom. I soon had another huge run, and again after battling with a bigger tope it bit me off. After two more dropped runs I put on my last fresh mackeral, which resulted in another tope hook up and battle, until it bit off the mackeral. I then resorted to frozen half mackeral, which resulted in a dogfish whilst i fished the shrimp rig on the second lighter rod - the tide was pushing through on the ebb and both rods got snagged on the bottom, and it took a while to get them free in the strong tide. After the tide eased I managed a single mackeral on the shrimp rig and put that back down on the tope rod. The action had quietened down by now and so we all up anchored and headed into the bay. Here is the view looking south: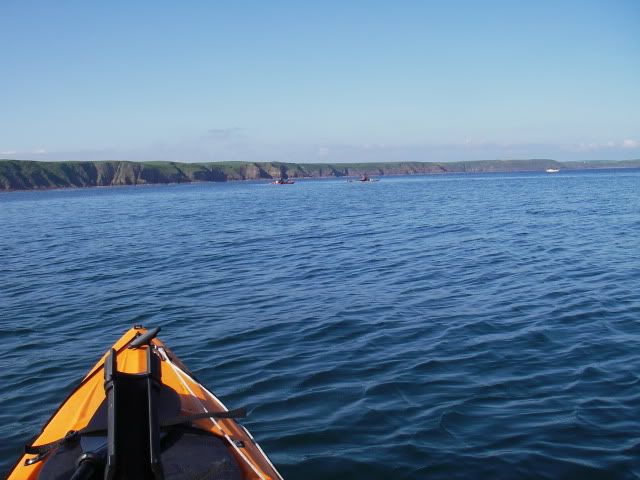 The perfect end to the day was in the final half an hour fishing outside the harbout entrance - managed to bag up with a load of joey mackeral for the freezer and a dozen large mackeral for the family.

We paddled into the now exposed beach and fetched the trolleys for the long haul up the beach and lane to the car park. A superb day out in great company, topped off with a lovely chinese takaway in Pembroke before the drive back north to Lampeter - a very sun burnt but happy bunny!
Nick
That's a big fish!

Do they get landed for eating, or is it just for sport? Vision of one of them in kayak less than happy is not a fun one!

Sounds like a grand day out
Moniar
Nick
You can eat them I believe but very much frowned upon. One of the UKs finest sporting fish/sharks, so should be released. I use barbless hooks which are bronze rather than stainless steel - so if you lose the fish with a bite off the hook will rust out in a matter of days.

I tend to target fish I can eat like bass, mackeral, black bream, and codling/pollack; but its nice to have a real large fighting fish once in a while. Bull huss are easier to catch and usually range from 8lb to 14lb, so if you like huss a line caught bull huss will provide a lot of goujons or curried fish without damaging sporting fish stock (and they give a reasonable scrap as well).
Mary-Jane
Amazing pics. I'd love to give that a try one day.
Moniar
Amazing pics. I'd love to give that a try one day.


Easily arranged - have a larger more stable tandem kayak as well as my single kayak - some good close inshore bass marks along the coast here for spinning, plugging, and fly fishing for bass.

I can feel a downsizer swap coming up - swap a kayak fishing lesson for a fly fishing lesson? I have a saltwater fly set up here that is crying out to be used from the kayak but its owner needs a lesson in how to cast
Its only been used in the front paddock so far !
Mary-Jane
[quote="Moniar:1256512"]
I can feel a downsizer swap coming up - swap a kayak fishing lesson for a fly fishing lesson? I have a saltwater fly set up here that is crying out to be used from the kayak but its owner needs a lesson in how to cast
Its only been used in the front paddock so far !


Sounds like a plan...
Northern Boy
Strong work, was good to meet you guys - you can just about make me out in the first pic!

Would be great to have a DS kayak bash up on Cardigan Bay. I have been wanting to get up there on the yak for ages.
Moniar
Yes that would be good - the bass and bream should be about in a few weeks time and also will be having a go for the tope closer to home once they move up the coast
Home
Home
Home
Home
Home