yes:

https://www.forestry.gov.uk/asianlonghornbeetle

That is a scarily long list of hosts

report to the Forestry dept if found?
Slim
If found, report to as many as will listen!

The state of Vermont sent a pancake breakfast to the city of Worcester Massachusetts in gratitude for their rigorous quarantine after it was found there. It was considered that they had saved the nation's largest producing state of maple syrup
Mistress Rose
That was a nice idea Slim. The Forestry Commission is being as vigilant as cuts in staff will allow, and they certainly have some very good people working in the pests and diseases department. Sadly 'free trade' doesn't match with stopping things getting in, especially as border inspections aren't too good with again, cuts in staff. There have been some controls brought in; I don't think chestnut or ash can be imported now, although they can as firewood and other biomass, and that can be a problem if all the infective agents aren't carefully removed. Unlicenced wood shavings for packaging have been the infecive agent in several cases, which is why all reputable makers obey the strict controls in place on its processing.
gz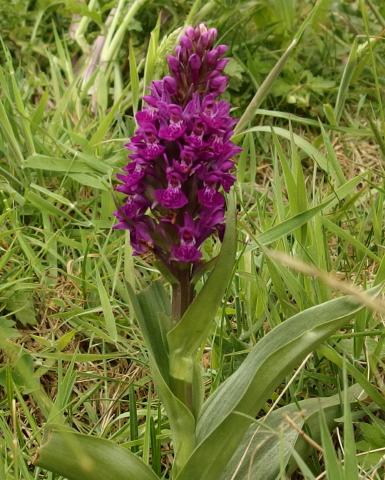 On a dry roadside just outside Forfar...luckily I hadn't driven over it
buzzy
I'd say that was Northern Marsh Orchid (but I was never an expert on orchids). A lovely specimen, well photographed. Thanks for posting it.

Henry
Mistress Rose
That's lovely Gz. I am not sure which orchid it is, but I suppose they will be coming up soon. We get pyramid orchids by the roadside here, and I suppose we will be looking out for common spotted orchids now too.
gz
I'm sure I saw some sort of Black veined white butterfly today (back in the hills again).
Unfortunately no camera to hand, and being hot weather it was flitting about fast!

I've only seen white butterflies so far...and only one orange tip.
Mistress Rose
It could have been a green veined white as the adults are supposed to be around at this time of year. There are a couple of other butterflies it could have been too, including a female orange tip, but that is more splodgy dark colour than veined.

Butterflies do move about fast in warm weather, which makes taking pictures rather tricky. I have a lasting memory of one of our rather mature volunteers trying to get a picture of a silver washed fritillary and trying to keep up with the various butterflies flitting around.
gz


Back up in the Galloway Hills, clearing grass and buttercups from around an azalea planted in a tyre,underneath a goat willow tree,found this lovely beastie
dpack
big moth? im fairly sure i have seen em before and they turned out to be big moth but that isnt much of an id

watch out for the spines
buzzy
Did you sniff it? It ought to have smelt strongly of goat, since it is the larva of a Goat Moth (

Cossus cossus

). It had probably been feeding on the Goat (!) Willow, leaving large holes, with exit holes near the base. When ready to pupate (after several years as a larva) they leave the tree for somewhere to pupate, but I've yet to find a suggestion of what sort of place that might be!


Nice find.


Henry
gz
Thankyou!
Home
Home
Home
Home
Home