Yes the price is great, that was not my point.

Its the practice of selling firewood by weight when

a, its not been weighed in any way.
b, it encourages selling it when wet.
c, you cant compare the true value with other suppliers.

In this case if it is truly dry seasoned wood (4 years might be a bit short for Oak if its been in lengths for all that time) its looks like a good deal.

Round these parts you buy by the load - that being a totally subjective volume depending on the size of the suppliers pick-up.
vegplot


So, the logs arrived on the back of a smallish tipper. Two tons of it! It's in the garage, in the garden covered by a tarp, up the garden, you name it. I think for £90 it's a real bargain, mostly four year seasoned oak. I think it will keep me going for a while.... This pile is half of the load, rest already piled in garage.



That's certainly not two tons.
Mistress Rose
Richard, I agree with you. We are frequently asked about 1ton of firewood, but we always sell by volume. We use 'a load' but tell them the back of our truck (the load) is a bit over 1cum so they will end up with just under 1 cu m when stacked. Our Coppice Group had a firewood day last autumn and using 9-10" logs, tumbled into a 1 cu m plywood container, we measured the volume of all the trucks we had. Ours came out at 1.3 cu m that way, but of course it also depends on the length and diameter of the wood.

I think you got a very good deal on that one anyway. We are currently charging £90 for about 1 cu m. I would check the oak. As Richard says, some of it may be seasoned, but if it was left unsplit, it can take 10 years or more for it to season properly. We have some trees that have fallen, the bark and sapwood have rotted, but the heartwood is still green enough to make shingles out of.
Jamanda
You need some other woods along with oak. Getting just oak going can be a pain, but it's good to have some to put on last thing to keep going through the might.
Mistress Rose
If you can get it, some ash or possibly beech would be good. Ash will burn green or dry, but whatever you put on, open the air up a bit to drive any residual moisture up the chimney, then shut down.

I would suggest the best would be ash or beech for burning up then shutting down, and oak for overnight. At that rate, the oak will last you for years, but it would mean buying some extra firewood.

If you have the room inside the house, it is best to bring in enough wood for a weeks supply, then have the stuff for 1-2 days by the fire so as much moisture as possible is removed. In the UK it is unlikely you will constantly have much below 20% moisture content in wood stored outside.
Liz in Ireland
This is interesting , I should have been splitting my logs much earlier for maximum seasoning, have tended to have them outside for year plus (I know a year is short),and then split before I stored in shed.
Mistress Rose
To season wood as quickly as possible, I would suggest splitting and cutting to length. It gives the biggest possible area for the sun and wind to get to. I must admit it is easier to store in log form, but if you can cut and split, then stack on a pallet or otherwise off the ground with just a covering on top, you will get it seasoned as fast as possible.

We use a temporary structure a bit like a poly tunnel to season the wood as this acts a bit like a solar kiln, but we are talking far larger quantities than most people would want to use each year.
crofter
http://www.boredpanda.com/wood-pile-art/
Mistress Rose
I have seen some of those before Crofter. I particularly like the fallen tree one. Not sure they are really for use, but lovely all the same. All I can say is that they must have time on their hands; stacking logs takes ages.
wellington womble
Those are lovely. Unfortunately, my wood pile very quickly starts to look like a pile and not even a stack, let alone a work of art! I'm always amazed at the woodpiles in France - all so neat, the same length and girth. I know they all grow and cut their own coppice in the area I was in, which I suppose makes it more uniform. We have always bought by the load and had a mixed bag of sizes and species. Ah, well next year.
Mistress Rose
Ours, if it ever get anywhere at home is always more of a heap as we have all the bits we can't sell; a bit overlength, bent, forked, too knotty.

I think the firewood on the continent tends to come mainly from fairly uniform trees, whereas ours tends to be more thinnings and coppice restoration so is often forked and funny shapes.
Bodger
If you follow this link to the bitter end, then you'll find the log store that I made a few years ago. Its still doing sterling service.

http://forum.downsizer.net/viewtopic.php?t=41788&highlight=wood+store
Mistress Rose
Nice store Bodger. Just what is needed.
Chickpea
Thank you all, and bodger, that's perfect! Yes, I think I got wrong end of stick (excuse the pun), and it was a two ton tipping truck. However, there is more than enough mixed wood there for my needs to last through winter. I'm pleased anyway.
Jam Lady
Stacking firewood in a cylinder is very efficient. This stack is 9 feet in diameter, so better than 27 feet for perimeter. Very stable, and holds a lot of firewood.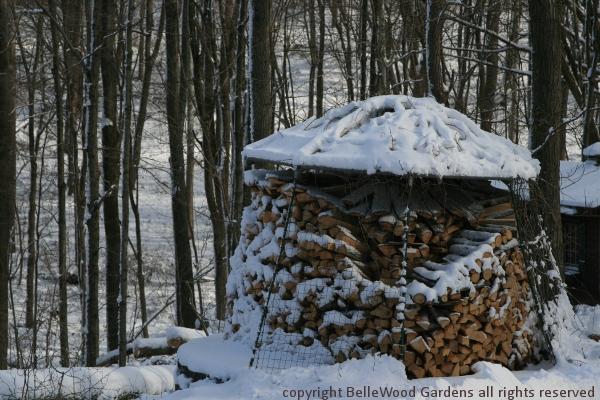 The gazebo is made from a non-working satellite dish. Snow does sift through the mesh, so we "shingled" the stack with slabs taken off the edges of stove-length logs.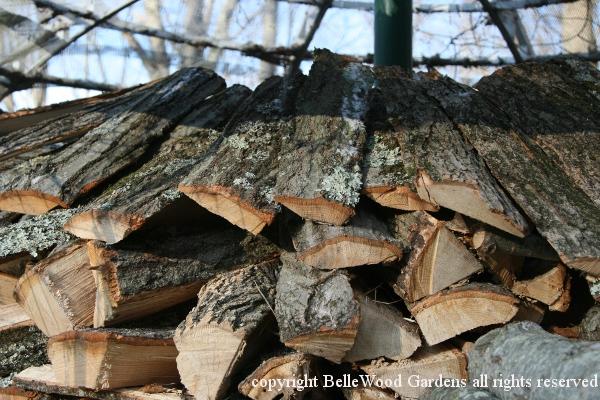 Wood is cut on our own property, standing dead or storm toppled for preference. Mostly oak. Never thought about weight. Here it is generally by cord - 128 cu. ft. We burn 2 to 3 cords / winter in a Vermont Castings Vigilant stove. In fact, have a fire going right now. There have been a couple of nights that were already flirting with a frost, dipped down to 35 degrees Fahrenheit. And today is raining and damp. Love a fire in the stove!
Mistress Rose
Good idea for large quantities Jam Lady, but in the UK we tend to use less firewood. Timber is sometimes sold in cords: 4'x4'x8', as you say, 128 cu ft, but firewood usually in cu m. We have some customers who use only 1/2 cu m per winter, and most use 1-2.
wellington womble
I've only ever bought wood 'by the load' which is very variable (both quantity and quality) but have noticed it more often comes in cubic metre bags now. Much more of a nusciance for access for us (we had an open fronted garage and the tippers used to just tip straight in. It's too low for a crane lift thingy)
Pilsbury
Get a sheet of heavy ply cut into 2 4'x4' squares and put some heavy duty casters on the corners and hhave the crane lift tye bag into it, then its easy enough to pull into your garage and you can have a spare for your next load to.
Jam Lady
If they're only burning 1/2 cu. m. Mistress Rose, then I would assume they're enjoying the ambiance of a fire. Our goal is "Can we keep the furnace from coming on."

There are numerous places selling firewood by the stack, an even more nebulous amount. (Same method as eggs for sale at the end of a driveway, though eggs are always by the dozen.) The price varies, currently about $10 / stack. The example here works out to 50 cents a piece.


Jam Lady
Let's see - using my handy dandy calculator, 128 cu ft works out to 221,184 cu inches. Divide by 39, 3 times, and it becomes 3.73 cu m.

So Mistress Rose, even your best customers are using significantly less than we are burning.
wellington womble
That's a great idea, Pilsbury - I don't have the garage any more, but access is now a pain, so I still might use it. I'm very much hoping to fell some trees this year, so shouldn't have to be buying wood again, Fingers crossed!

We used to have fires just for ambience - in a large detached house that was not designed to be heated by it's equally large, fairly inefficient wood burner. We had approx 2 cubic metres delivered annually, and burned through most of it, using the remains on outdoor fires and barbecues in the summer. We used the heating as normal, although we did have room thermostats so at least they wouldn't be on at the same time. I don't expect it made any significant contribution to the heating.

This year I am in a terraced house with two small and (fairly) efficient wood burners. I have some weird electric radiator thingies, which I have no intention of turning on. I'm expecting to go through about the same amount of wood, perhaps a little more. Annoyingly, neither will stay lit through night like my old clearview as they are too small. The last one was too big!

I love the idea of buying by the stack. I've just paid £7 for a bag half the size of that (I'm trying to find a good supplier, and am experimenting by the sack. I'm not buying a cubic tonne of crappy wood! The last lot I had was so wet it was dripping!)
sean
Annoyingly, neither will stay lit through night like my old clearview as they are too small. The last one was too big!


Buy a bag/couple of bags of coal. If you chuck a little bit on last thing at night it'll still be going in the morning.
Mistress Rose
I agree with Sean. We use a bit of Stove esse on our fire with some logs at night, and it keeps going all winter.

WW, you could try www.coppice-products.co.uk to find a firewood supplier. It is nothing like comprehensive, but may point the way for you. Otherwise, try http://ncfed.org.uk/ the National Coppice Federation website. There is a forum on there where you could ask for anyone near you supplying firewood to make contact. Afraid I don't know anyone to recommend as far away as you.
dpack
Annoyingly, neither will stay lit through night like my old clearview as they are too small. The last one was too big!


re overnight burn

Buy a bag/couple of bags of coal. If you chuck a little bit on last thing at night it'll still be going in the morning.

homefire ovals are ace at keeping lit all night ,dont bank them if part burned together as they will self regulate

if you have it well seasoned oak is good even in a small stove (as is blackthorn) especially if you add it lateish,open the flue to burn out the gassy stuff and then close the vent(or bank the ashes over it in an open fire ) to give a slow charcoal burn.
wellington womble


Place is swimming with coal (lots of old miners who have coal for life. Hardly surprising really in Coalville!) I've never used it myself, dunno why. I'll give a go for nighttime. The kitchen stove can be closed down so tight that it does make charcoal. I'm looking forward to that when I've got the wood sorted out. I can get wood no problem, it's just very variable so I'm trying it out by the bag until I find some good quality stuff.

I do have some oak, but it's still in the tree. With a TPO on it. I'm working on it! I don't know it well enough to pick it out of a load of mixed hardwood.
dpack


just to complicate matters there are several dozen types of oak and they can have quite varied properties between types and even within one type depending on age ,heart or sapwood,seasoning etc etc


i just had a look online for a guide to identification of split firewood and failed to find anything useful

it does matter as different woods are best used in different ways ,a list of what to do with what is not much good unless one can id what is in the pile
Mistress Rose
I have trouble identifying split firewood, and we sell it! I have to check with husband and son if any is non-standard.

Start with any bark on the log then look at the colour and check the weight of the seasoned log. I would quality any of the following with the word 'usually'. Beech is smooth, fairly heavy and brownish wood. Ash can have quite heavily furrowed bark, although young trees are smoother, bark grey, lightweight, often white wood. Sycamore bark is smooth, wood white, not as light weight as ash. Oak is dark wood, heavily furrowed bark and very heavy. Just a few to be getting on with.
wellington womble
I'm not much good at identifying live trees, haven't a hope with split logs! Short term problem, as I have ash, oak and willow to fell (and label) and that should cater nicely for my needs. At the moment I'd settle for not dripping wet and caked in mud, as the last lot was. So glad I only bought a sack and not a full load (however it's measured!)

Thanks for the coal tip, Sean. Worked perfectly (except now I am sweltering! Still, it's too late to mend a roof in the rain)
wellington womble
At last, dry seasoned wood. A whole cubic metre of it. Mostly 4 year old oak, so I'm told. Dumped on the patio at the moment, as the usual crises prevented me knocking up a pallet wood store. It's burning so nicely I'm thinking of ordering another couple of cubic metres to store at the field (no space for more here, sadly) as he said he didn't have a lot left, but would have plenty of sycamore and beech for Christmas which is when I think I will run out.
Mistress Rose
Whatever it is, make sure you get your order in quickly WW. We have people phoning us up now expecting virtually instant delivery. Afraid it isn't happening.
Chickpea
Well, here us the finished item, a heavy duty rustic log store!


wellington womble
Whatever it is, make sure you get your order in quickly WW. We have people phoning us up now expecting virtually instant delivery. Afraid it isn't happening.


I did have virtually instant delivery, from a very nice man. I may phone and see if he has any more - I know he had limited oak, but was expecting sycamore and beech ready after Christmas. I like to oak, though so I might see if I can either reserve some, or get it delivered to the paddock (a pain, but worth it for decent wood)

The wood store looks great. I chickened out and bought mine - building things is not really my forte and sick children meant I had less time than I'd hope. In the meantime, the wood is getting rained on!
dpack
if you buy by volume oak is a good bet
Chickpea
I have found that the seasoned oak in my load is exceptionally good, it's very dry, and burns so cleanly, and a single log lasts for over an hour on open and will have a gently rolling flame for a couple of hours or more with just a bit of top closing down. My baby AGA is very, very efficient! I'm really pleased with it.

Marionb
My parents cut an ash down in the summer and are burning it on their open fire already. :rolls eyes:
Ty Gwyn
My parents cut an ash down in the summer and are burning it on their open fire already. :rolls eyes:


Ash is the only wood that burns equally good fresh or seasoned,
Your Dad is a wise one.
Marionb
My parents cut an ash down in the summer and are burning it on their open fire already.


Ash is the only wood that burns equally good fresh or seasoned,
Your Dad is a wise one.

Really? Doesnt it line the chimney with tar or something?

I guess I'd better shut up then lol
Treacodactyl


Burning ash green seems to be a bit of a myth caused by those old poems about firewood.

The moisture content is the most important aspect of firewood and green ash will still have a high moisture content, less than some green woods but similar to others.

Burning ash green will still mean much of the energy is lost burning off the water and I would expect it to cause problems in the chimney.

No doubt some will argue with that but one thing I doubt anyone would argue is ash is better burnt seasoned.
Ty Gwyn


The thing with Ash is,it does`nt have much of a moisture content even in full summer,branches will crack like carrots when pulled on,
And when cut,dries out very quickly and cracks/splits.
Treacodactyl


I think it may have a relative low moisture content when green but similar to some other woods and still around 40%-45% compared to around 20% when seasoned. If I remember I'll get my moisture meter out when I next fell some.

It does split very easy which is probably one of the reasons why it's popular and I did read somewhere in may have substances that burn more readily but it should still be seasoned.
Home Home Home Home Home